2021.7.29 Products / Services
Notice of Sales start:New Diode and Thyristor Diode Module DCA/SCA/SCE series
We have started mass production of diodes and thyristor diode modules with a redesigned internal structure for the purpose of high heat dissipation (improvement of long-term reliability) and weight reduction.


【Product overview】


【Features】
Lighter package and high heat dissipation thanks to fewer layer structure.
Improved long term reliability thanks to removal of two layers and soldering on both sides of chips increase product's reliability (twice as long as existing product).
■ DCA 200/240DB High heat dissipation (high reliability) model
Reduces thermal stress on the diode chip thanks to newly designed high heat dissipation internal structure, thus improving the long term reliability (about twice the power cycle capability compared to previous model).
■ DCA 200DB220 High heat dissipation, High voltage resistance model
Provides high VRRM (2200V) by using specially designed glass passivation diode chip.
Can be used in areas where the power supply (or source) voltage exceeds AC500V.
■ DCA 240EB Super high heat dissipation model
Improved heat dissipation thanks to newly designed low layered internal structure and
special material for insulation layer, offering easy thermal design for equipment.
■ SCA/SCE-DB Lightweight model
Great protection against lightning surge and the like thanks to the unique gate design of its thyristor chip.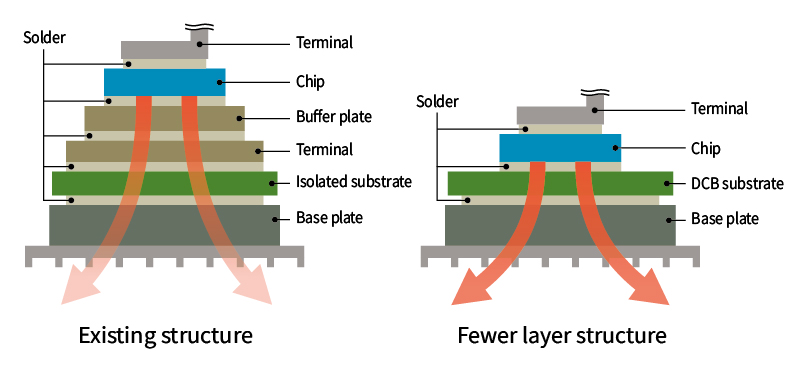 【Main applications】
DCA
・Motor Drives、Battery Charger、Generator、Elevator、Various power supplies such as Middle Voltage Inverter (DCA200DB220)
SCA/SCE
・Motor Drives、Servo Controller、Power Controller、UPS、Various power supplies such as Soft Starter
【Consideration for the environment】
 This product complies with the RoHS * directive (2011/65 / EU and (EU) 2015/863).
※ Restriction of the use of certain Hazardous Substances in electrical and electronic equipment.
【Production plant】  Okayama Plant : 1741 Kaki, Nagi-cho, Katsuta-gun, Okayama 708-1312, Japan
【Price】  Please contact our sales department.
※The information contained in this news release is as of the time of the announcement. Please note that the contents are subject to change without notice.
Diode Module Leaflet
Thyristor Diode Module Leaflet