Uninterruptible Power Supply (UPS)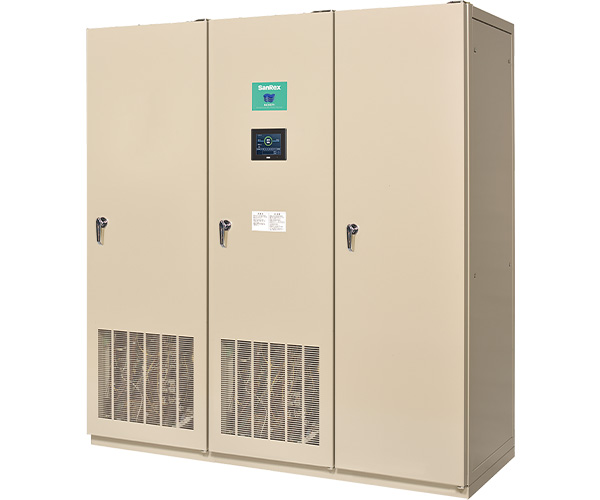 Better reliability and operability to meet the development of a sophisticated society...
UPS (Uninterruptible Power Supply) is a constant voltage, constant frequency uninterruptible power supply. Such reliable and durable power source is required to support a wide-range of applications.
Power outage of systems shutdown all functions and cause troubles.
The UPS continues to supply clean and stable power to the load at all times and prepares for an unexpected situation such as power failure or voltage interruption.
Our UPS has many features based on power electronics and it supports infrastructures as a powerful backup power source.
We can make optimal proposals according to various customer requests.
It is possible to use lithium ion storage batteries etc. in addition to lead batteries.
Example

Power plants (thermal power, hydropower, biomass), waste treatment plants, water purification plants, oil plants, roads, hospitals, airports, etc.

BACKUPS 1000 series

Medium standard UPS
Single-Phase output: 5~75kVA
Three-Phase output: 10~100kVA
Features
Greatly increased overload capacity (125% for 10 minutes, 150% for 1 minute)

The overload capacity has been significantly strengthened, allowing continuous operation for 10 minutes at 125% overload and 1 minute at 150% overload.

Continuous operation during overload

Traditionally, when a large overload such as a short circuit occurs, the UPS stops. However, with our product, current limit works and operation can continue, even if large peak current flows. (Limit current peak value: 220% of the rated current effective value in three phases, 300% in single phase)

Improved battery life management

Under normal operation during emergency, it is necessary to properly replace the storage battery before it comes to its life end.
By managing the storage battery temperature as well as calculating the standby time, it is possible to determine the storage battery life with higher accuracy and notify the appropriate replacement timing.
control panel
Improved visibility and operability thanks to full color touch screen
Redundancy operation series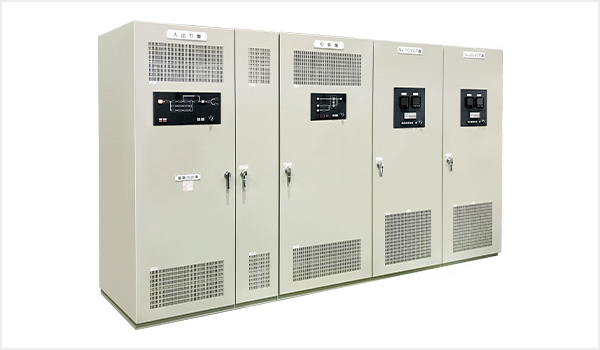 Reliable parallel redundancy operation
Three-Phase output: 20~3000kVA(500kVA × 6 units in parallel)
Features
Improved reliability thanks to parallel redundancy operation

Possible to expand according to load increase

Displays various system information

Customization available
"SRG"series Stand-By Type Uninterruptible Power Supply
Most effective for momentary power interruption
50~2000kVA
Features
Greatly reduces running cost

(Reduces loss by 80~90% in comparison with our continuous inverter)

Lead storage batteries used for backup

It is possible to use electric double-layer capacitor as an electricity storage device for power interruption compensation (backup max. 10 seconds)

Uses our semiconductor for seamless switching
Total cost for 10 years usage (Compared to the continuous inverter type at 70% load)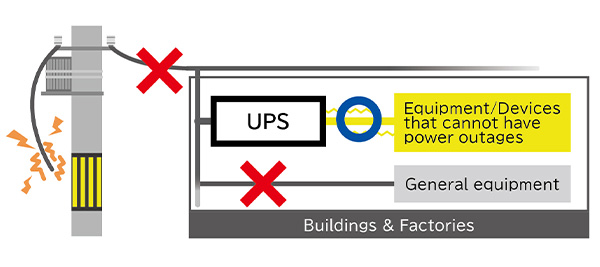 Please contact us for customization
There are ways to improve the efficiency of on-site work by customizing standard products to fit your own usage conditions.
We meet the needs of customers with the know-how we acquired over many years in Power Supply manufacturing.