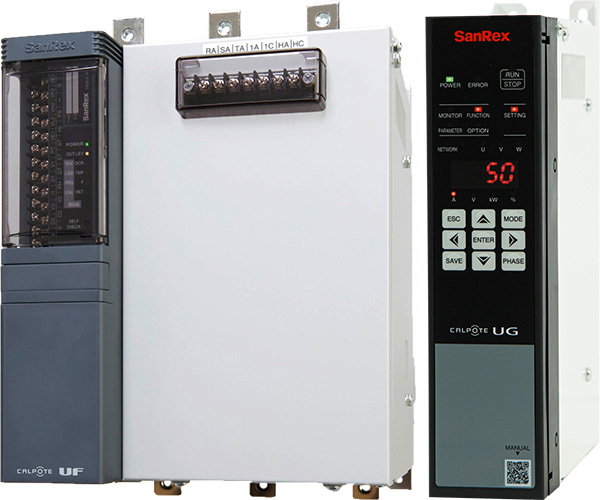 High performance unit with network function
Our thyristor type power regulator is reliable and easy to operate, making it widely popular across many industries. We have been developing and manufacturing semiconductors and thyristors, core elements of power control, for many years and with constant reliability, allowing us to deliver high quality power regulators.
The "UF series", fruit of many years of experience, is equipped with our thyristor module (Isolation type) in the main circuit to make it light and compact. It increases accordingly the mounting density and fits a large number of units on the control panel. The control circuit uses digital control. Various protective functions and options are available to achieve great performance. The lineup also includes the general-purpose SPU series.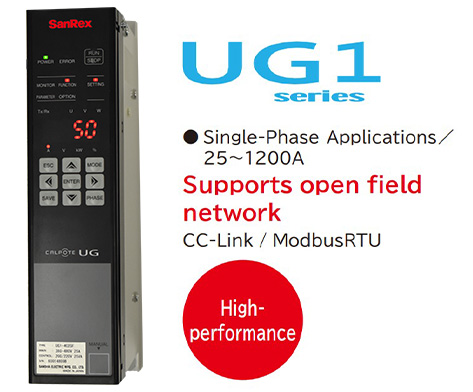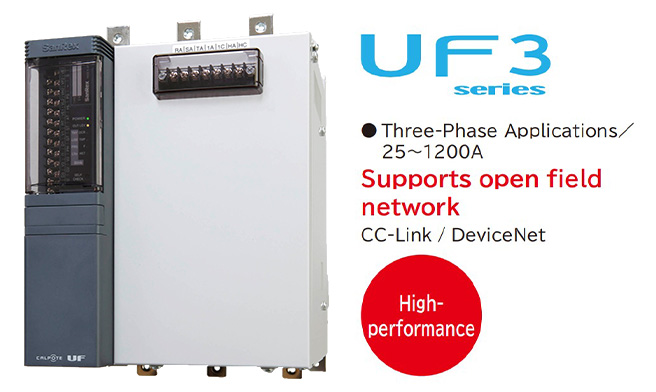 Supports open field network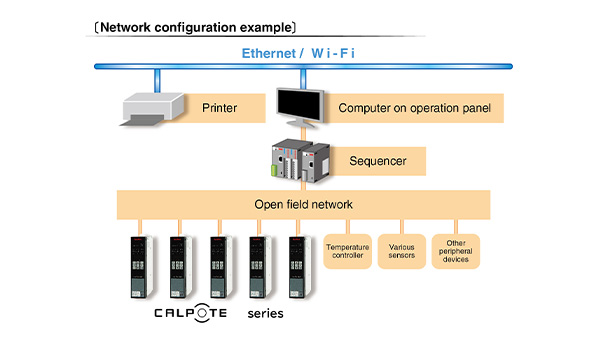 Our products are the first in the industry to incorporate open network communications such as CC-Link. You can enable interconnection with control devices such as PCs and PLCs, and easily match the equipment with mechanical systems. No need to develop complex programs or special boards, just connect via communication protocols such as RS232C. (Some models are not compatible.)
As an option, it is possible to connect up to 63 units on the same communication unit instead of individual connections.
The signals and monitoring of the output voltage, current and power can be set from a PC.
Possible to produce heater control panel
We take advantage as an integrated factory of our capabilities, and produce products from sheet metal to bus bars and harnesses. We can also manufacture a heater control panel integrating the peripheral circuit of power regulator and many units.
Specifications
Input spec
Phase
Single-phase, Three-phase
Voltage
100V power (100/110/120V±10%)
200V power (200/220/254V±10%)
400V power (380/400/440/460/480V±10%)
※Control power AC200/220V
Frequency
50/60Hz±5%
Output spec
Current
25/35/50/75A (natural cooling)
100/150/250/350/450A (air-cooled)
600/800/1200A (not standard/air-cooled)
Operating environment
Ambient temperature
Operation:-10〜50℃ Storage:-20〜70℃
Relative humidity
30~90%RH
Atmosphere
No corrosive gas, dust and vibrations
Dielectric strength
Withstand voltage
AC2000V/min (100/200V power)
AC2500V/min (400V power)
Insulation resistance
Over 20MΩ (with DC500V megger)
Control system
Phase control Cycle control (continuous, intermittent)
Control input
(1)ON/OFF signal: Contact made when temperature drops below setting
(2)Current signal: DC 4-20mA (Unit input resistance: 250Ω)
(3)Voltage signal: DC 1-5V, DC0-5V (Unit input resistance: 13KΩ)
(4)Other current and voltage signals (signal converter required)
Start/Stop method
Soft start/down system (Standard 0.5 sec., Random setting on display panel)
Current limit
Preset 50-110% of rated current available (phase control only)
Output characteristics
Linear characteristics ±3% F.S (at 10-90% output)
Minimum setting: Minimum output voltage setting
Gradient setting: Maximum output voltage setting
Protection
(1)Overcurrent protection
(2)Short-circuit protection
(3)Overheat protection (100A and higher rated units)
Accessories (per unit)
Variable resistor knob
Please contact us for customization
There are ways to improve the efficiency of on-site work by customizing standard products to fit your own usage conditions.
We meet the needs of customers with the know-how we acquired over many years in Power Supply manufacturing.