Power Supply for Light Sources
〈
SanRex

〉has been and will continue to lead the industry
Nowadays cinemas have become cinema complex where entertainment and shopping are integrated, and the industry of video projection is also undergoing a digitization wave.
The world of "digital cinema", in no way inferior to the conventional cinema, has evolved rapidly, and the entire movie industry will soon experience an era of reform. The power supply unit for projection, that we have been producing since our foundation, uses semiconductors we have developed throughout many years of experience.
Using the most advanced power electronics technology, we also develop compact, light, efficient and superior power supplies for any projector of digital cinema and other projection applications. The「SanRex」brand attached to our products' superiority has been recognized by major projector manufacturers in Japan, as well as in the United States and in Europe, and we are an essential name of the industry.
As a technology-based company, we strive to stay ahead of our industry, and from semiconductors started from selenium development, we moved to the production of advanced power semiconductors. The fact that we integrate our own semiconductors at the core of our power supply equipment is unique in the world.
Light source technology became widely used in all industries, and our power supply for light source equipment is used in many production areas such as PCBs, semiconductor manufacturing, optical fiber and digital home appliances.
Lamp Power Supply for Digital Cinema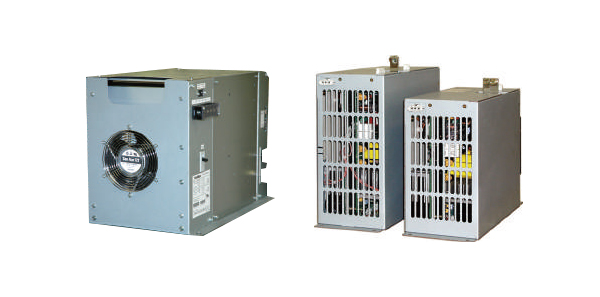 To meet the strict requirements of digital cinema, we developed low ripple and flickerless in addition to reliable 4kW/7kW thyristor type power supply. We have a wide lineup of high-frequency inverters to dim delicate light control in addition to the simplicity and robustness of thyristor models.
Features
Communication function

Possibility to monitor the output voltage/current and the power supply status remotely, along with setting the power supply output to keep the screen brightness uniform thanks to the communication function.

Universal input voltage available

It is possible to select from 200V to 400V, and use our equipment in every country.

Comply to EMC standard and safety standards of each country
Lamp Source Power Supply for photolithography
A high-stability, high-power light is required for printing exposure of wiring patterns using the photolithography process such as high-density and high-definition PWBs.
There is a growing demand for high-power light source power supplies to match such lamps.
The lithography equipment increases the lamp output to high power like 10 kW to 35 kW in order to improve the definition and increase the productivity. As for the standard type, demand for highly versatile 5kW to 8kW lamp output equipment is expanding overseas.
Features
Improved external output adjustment function

To cope with Factory Automation, the equipment can be remotely controlled via interface.

Option

Universal input voltage available

Supports worldwide voltage 200/400V.

Size and weight reduced to 75% compared to conventional model

We worked hard to reduce the cost and improve the productivity as well as downsizing winding parts (Reactors, etc.) by increasing the operating frequency of 35% from the conventional model.
We also improved performance by reducing ripple current of the lamp.
Lamp Power Supply for UV Irradiation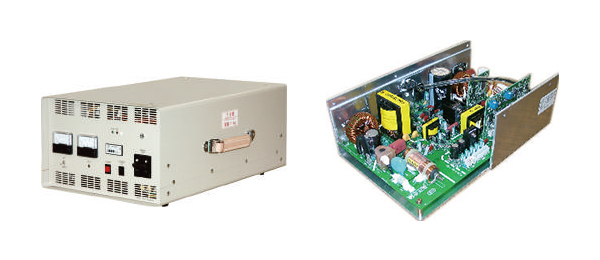 Used in combination with UV equipment, our power supply are used for various purposes in industrial and consumer manufacturing field such as wafer cleaning and sterilization processes and resin curing.
Features
Supports both 100 and 200 input voltage

Easier to use with integrated igniter
Please contact us for customization
There are ways to improve the efficiency of on-site work by customizing standard products to fit your own usage conditions.
We meet the needs of customers with the know-how we acquired over many years in Power Supply manufacturing.