Power storage system (with lithium-ion battery)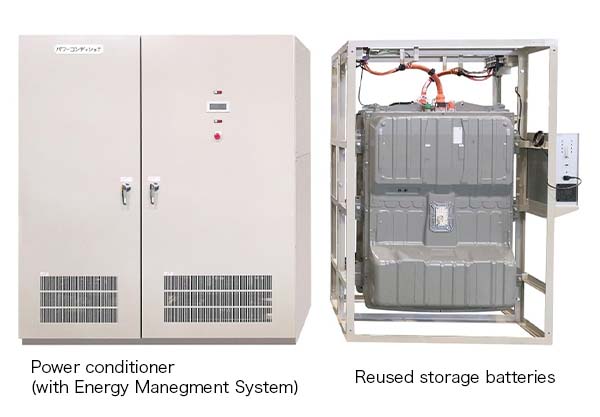 DAI-DAN CO., LTD.
Power storage system (with lithium-ion battery)
Achieves energy optimization, business continuity plan measures and ESG compliance
Background
DAI-DAN CO., LTD. was considering the construction of "Enefis Hokkaido" to realize "ZEB "* in cold climates, when they decided to rebuild their Hokkaido branch due to its aging. The following three points, which our energy storage system (equipped with lithium-ion batteries) can handle, were decisive in their selection.
Possible to sell surplus electricity
Automatic switch to self-consumption when output curtailment is in effect
Environmentally friendly system using reused storage batteries
※ Abbreviation for "net zero energy building" = a building that aims to reduce the annual energy consumption balance of the building to zero while achieving a comfortable indoor environment.
Features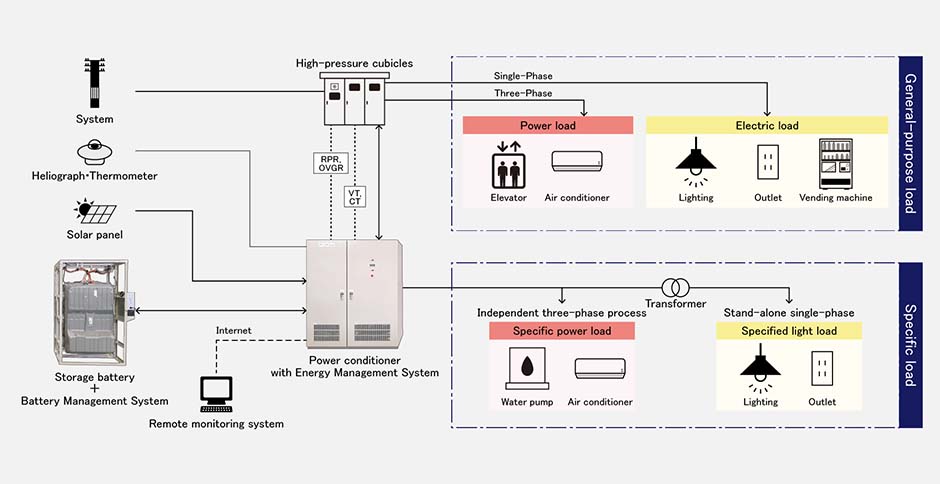 Remote monitoring and control functions.
Automatically switch between surplus electricity sales, private consumption, and peak shift operation modes by setting the schedule.
Supports output curtailment, automatically switches to self-consumption mode when output is curtailed.
Solar cells and storage batteries are connected via direct current to efficiently charge solar power.
Product Specifications
| | |
| --- | --- |
| power conditioner | 49.9kW(EMS, with output suppression unit) |
| DC/DC converter for PV | 36 kW, 2 units |
| Storage battery capacity | 24kWh (reused storage battery) |
Customer Information
Hokkaido Branch
Since its establishment in 1903, DAI-DAN CO., LTD.
has been contributing to building facilities in Japan and overseas as a professional in the fields of electricity, air conditioning, plumbing and sanitation under the slogan "Making the most of light, air and water.
As innovations that will create new business pillars, they are also working to provide "ZEB solutions" that pursue the decarbonization of buildings, contribute to the low cost of "regenerative medicine," which is showing great promise, and "filter regeneration" that realizes the reuse of organic gas removal air filters used in factories.
In order to realize a sustainable society, they are promoting initiatives to "provide an environment that is friendly to people, products, and the earth.
Please contact us for customization
There are ways to improve the efficiency of on-site work by customizing standard products to fit your own usage conditions.
We meet the needs of customers with the know-how we acquired over many years in Power Supply manufacturing.