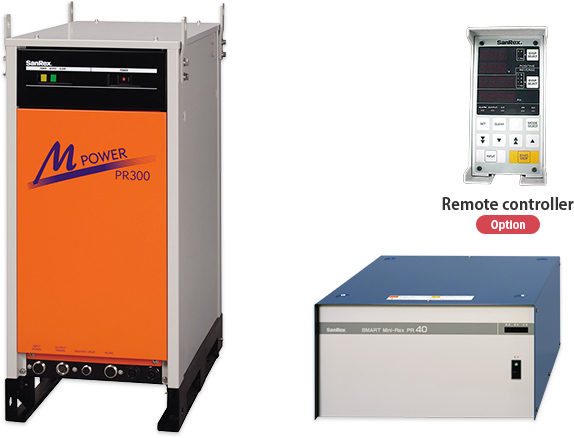 Features
Faster rise and fall time of output pulse current (Max. 50s)

Changing the pulse polarity of the output current between forward and reverse, usually leads to idle periods under conventional method. With our product, that idle period is eliminated so you can achieve high quality plating.

Plating tends to lose gloss because of the ripple current included in the output current. Our product reduces it to 5% or less and eliminates the gloss loss by using high frequency inverter circuit technology.

We have four types of power supplies, with output current ranging from 40A for laboratory to 500A for large capacity.

Depending on the purpose, select the DC output, pulse output for positive side and positive and negative pulse output.

It is possible to operate multiple units in parallel by using the synchronized function. You can obtain uniformity on the front and back of plating products and stable quality of large plated products. Option

It is possible to control multiple power supplies simultaneously via PC thanks to the RS-485 communication port on the main unit (standard). Output and current integration can also be displayed. In addition, we can provide a software for complex output conditions. Option

A combination of pulse peak current value, pulse width, and plating time for each of the positive and negative polarities is set as one pattern. You can record up to 10 patterns. You can run the programmed operation sequentially and in any desired order.
Specifications
Model
MRT-800.4HPR
MRT-8001HPR
MRT-8003HPR
MRT-8005HPR
Output
Positive peak current
40A
100A
300A
500A
Negative peak current
100A
300A
900A
1500A
Constant current control accuracy
±3.0%
Positive polarity pulse width
10 - 99.9ms
Negative polarity pulse width
0.1 - 2.0ms
Positive/negative current changing time
50μs(TYP)
Positive polarity voltage peak value
8V
Negative polarity voltage peak value
15V
Positive/negative pulse ratio
5:1 or more
*

We offer products with different voltage / current in addition to the above.

*

For detailed specifications, please see the catalog or contact us directly.

*

The KTA Series, Pulse Reverse Rectifier (Gen.2) is also available on request. Ask us for more details.
General Purpose Rectifier Lineup
Please contact us for customization
There are ways to improve the efficiency of on-site work by customizing standard products to fit your own usage conditions.
We meet the needs of customers with the know-how we acquired over many years in Power Supply manufacturing.