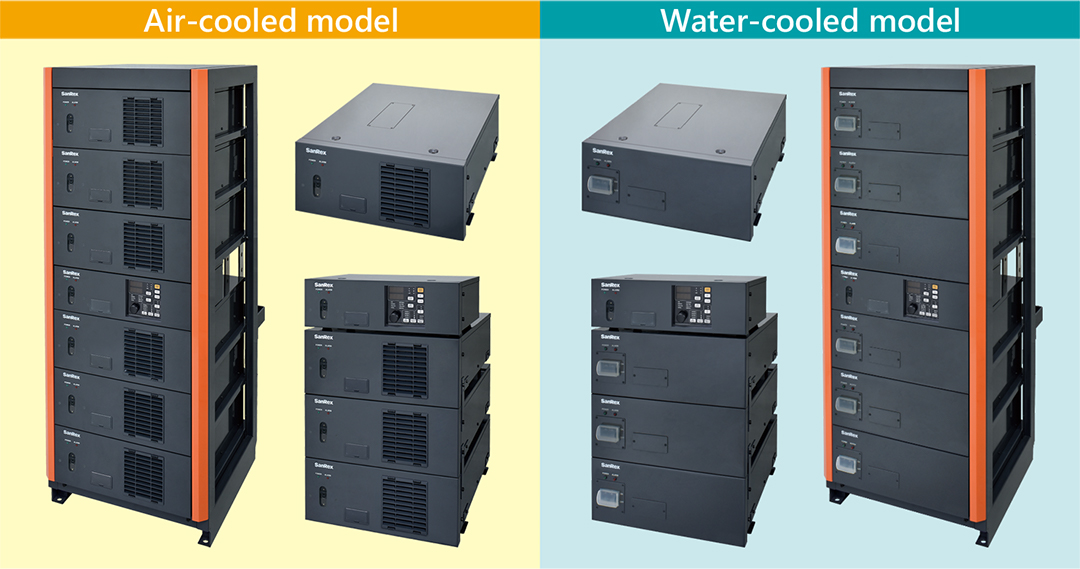 Increase output current by connecting power modules in parallel.

It is possible to select either 200V – 240V or 380 – 480V, and use our equipment in every country.

Reduces unexpected shutdown during operation by predetecting cooling fan failure.
Shields electronic circuits and major components from outside air.

This is a versatile product thanks to CC/CV control mode.

Equipped with analog in/output and RS485 port as standard. Also supports open field network (option).

DC and Pulse mode are equipped as standard. The GOLD WAVE mode (Flexible waveform) is available as option.

A. Chopper (pulse) mode

The pulse output can be set at a width of 10msec minimum.
Suitable for precious metals plating and lead-free compatible parts.
Synchronized operation of multiple units available

Option

B. Single phase full wave mode

Same functions as the DCAUTO HK-G series:

High speed communication
Supports open field network(Option)
Current integration function
Energization timer
Operation pattern memory

Effectively set integrated current value to manage your plating solution remote control optional.
In addition to the common features , the water-cooled model also has the following features.
Improved resistance to environment(power module)

Enhanced shielding of the power module circuitry for stable and durable operation. The rectifier can be installed close to the plating tanks, thus reducing wiring length and power loss.

Boosted cooling performance

When the rectifier is used as a single unit, it can withstand an ambient temperature up to 50℃.

Can use industrial water

Our original water pipe system allows the use of both pure water and industrial water.
MRM series common specifications
Output specifications
Output
Control
Constant voltage or Constant current
Accuracy
Both voltage/current Rated value max. ±1%(FS)
Accuracy (Warranty) range
Both voltage/current 10% to 100% of rated value
Current ripple factor
RMS max. 1%
(of rated value at rated input / output)
Functions list
●:Standard ○:Option
Function
Control module
Power module
I/O signal
External start / stop
●
○
Contact input
CV/CC output selection
●
○
Contact input
Abnormal output
●
○
Contact output
Output setting signal (CV/CC output setting)
●
○
Analog input
Output voltage monitor /Output current monitor
●
○
Analog output
RS-485 communication
●
○
Digital communication
Remote control
○
○
-
Initial current setting
○*1
○*1
-
Current integration Preset counter / Current integration Total counter
○*1
○*1
-
Soft start(1-9999 sec)
○*1
○*1
-
Start / Stop
○*1
○*1
-
Output adjustment (CV/CC output setting)
○*1
○*1
-
Output waveform selection (DC • Square wave)
○*1
○*1
-
Digital voltmeter /Digital ammeter
○*1
○*1
-
Open field network
○*2
○*2
-
*1

Supported by a control module with operation panel or a remote control

Option

*2

Open field network supports DeviceNet and CC-Link

Option

.

*

We offer products with different voltage / current in addition to the above.

*

For detailed specifications, please see the catalog or contact us directly.
General Purpose Rectifier Lineup
Please contact us for customization
There are ways to improve the efficiency of on-site work by customizing standard products to fit your own usage conditions.
We meet the needs of customers with the know-how we acquired over many years in Power Supply manufacturing.