2022.4.27 Products / Services
Launched the GSA series of SOT-227 packaged IGBT modules
We are pleased to announce that the GSA series of SOT-227 packaged IGBT modules will be available from April 2022.
By offering two types, a low Vce(sat) type and a high-speed switching type, we are able to meet a wide range of customer requirements.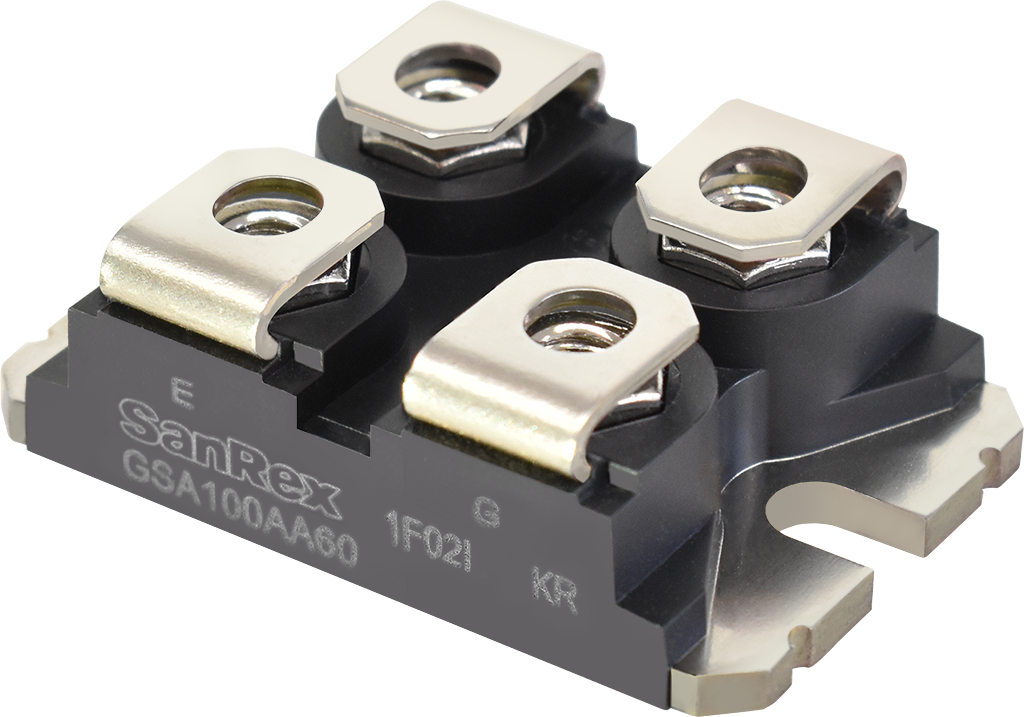 【Product Overview】
Tj(max): 150℃
Type
IGBT
FWD
Rthj-c
℃/W
Fig
No.
Vᴄᴇꜱ
V
Vɢᴇꜱ
V
IC
Vᴄᴇ(sat)
V
Vɢᴇ(th)
V
ton
toff
trr
A
℃
μs
μs
ns
GSA75AA120
1200
±20
75
57
3.9
6.3
115
275
125
0.25(IGBT)
23
GSA100AA60
600
±20
100
113
1.5
6.7
1260
8780
–
0.25
23
【Features】
Compact and reliable package
・ Compact and reliable SOT-227 standard package ・ Can be directly attached to the heat sink ・ Isolation voltage 2500V ・ RoHS compliant
---
・・・・GSA100AA60・・・・
Pursuing low loss in the low switching frequency range
・Achieves low Vce(sat) thanks to our original IGBT chip(Tj=125℃ Vce(sat)1.21V Typ.))
【Main applications】
▶AC / DC TIG Welding Equipment
▶Bypass AC Switch (such as UPS)
▶Forward-Reverse pulse power
 (for surface treatment)
---
・・・・GSA75AA120・・・・
Excellent high-speed performance(40~70kHz)
・Uses IGBT chip specialized for high-speed performance and high-speed diodes optimally designed to match the IGBT
【Main applications】
▶Welding/Cutting Equipment
▶Induction Heating Supply
▶Switching Mode Power Supply
▶Uninterruptible Power Supply (UPS)
---
The SOT 227 package contributes to the overall miniaturization of on-board equipment.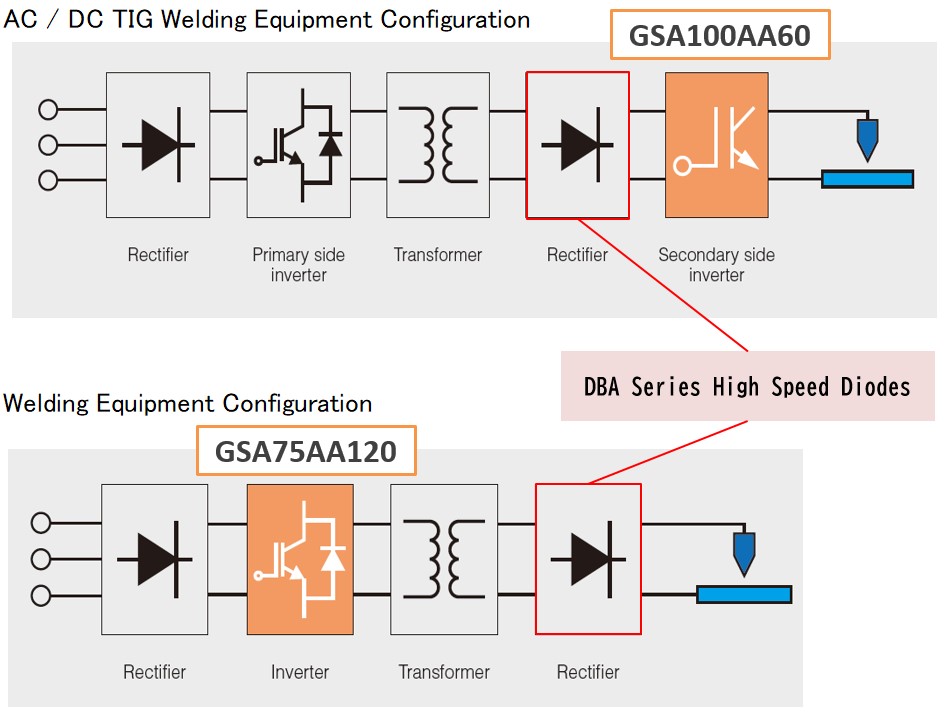 【Environmental Considerations】
This product complies with the RoHS* directive (2011/65/EU and (EU)2015/863).
※ Restriction of the use of certain Hazardous Substances in electrical and electronic equipment.
【Price】
Please contact our Semiconductor Sales Department.
---
*The information in this press release is current at the time of publication. Contents are subject to change without notice. Thank you for your understanding.