2022.4.12 Exhibition
Sales Launch of Discrete 1200V Voltage SiC MOSFETs with High Reliability and Low Loss
We will begin selling SiC MOSFETs with a current capacity of 50A in April 2022, using a TO-247 package with a 4-pin structure that achieves fast switching and low loss.
In addition to the existing module products (150A and 100A), we have added a 50A discrete product to meet a wide range of customer requirements.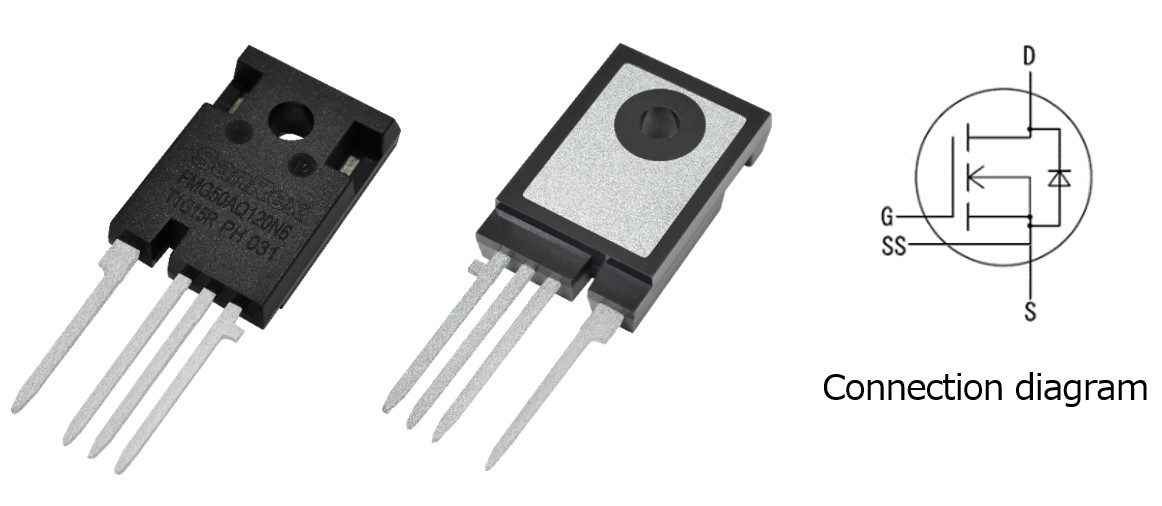 Power devices are used in a variety of applications in the automotive and industrial fields.SiC (silicon carbide) power devices are expected to be key devices for energy conservation in high-current and high-voltage applications because of their low loss and high-speed operation that exceeds that of conventional Si (silicon). This product reduces unnecessary inductance by incorporating a SiC MOSFET chip with a built-in reflux diode function, and achieves high-speed switching and low loss by adopting a 4-pin structure that brings out the performance of SiC MOSFETs.
【Product overview】
Product name
Product name
Withstand voltage
Current capacity
RDS(ON)
Package
SiC MOSFET
FMG50AQ120N6
1200V
50A
13mΩ(Typ)
Vɢꜱ=20V, ID=50A
TO-247-4L
【New product features】
Proprietary low-loss internal wiring that maximizes the performance of SiC MOSFETs and a dedicated package with high heat dissipation and high insulation.
The 4-pin structure reduces the effect of inductance on the source pins, resulting in faster switching and reduced energy loss.
SiC MOSFET chip with built-in reflux diode function that can reduce unwanted inductance for ideal switching
Industry's top class short-circuit withstand capacity to realize safe design of equipment against short circuit breakdown, which is said to be a weak point of SiC MOSFETs.
Chip that achieves high efficiency in actual use has an on-resistance characteristic that remains unchanged even at high temperatures (150°C).
High threshold gate characteristics that are resistant to malfunction against noise at high frequency drive (threshold voltage 4.0V (Typ.))
【Main applications】
Industrial Inverter
Uninterruptible power system (UPS)
EV Battery Charger
Various Switching Mode Power Supplies
【Environmental considerations】
This product complies with the RoHS* directive (2011/65/EU and (EU)2015/863).
* Restriction of the use of certain Hazardous Substances in electrical and electronic equipment.
【Future outlook】
By expanding our lineup of SiC MOSFET-based products, we will contribute to higher reliability and efficiency as well as smaller size and lower cost of power supplies.
【Price】
Please contact our Semiconductor Sales Department.
---
* The information in this press release is current at the time of publication. Contents are subject to change without notice. Thank you for your understanding.
Click

here

for the leaflet of this product.
Click

here

for the detailed specifications of this product.