Examples - Aluminum thin plate etching power supply for offset printing
Large capacity inverter power supply for surface processing by etching on thin aluminum plates used to offset printing.
The shape of the aluminum surface is determined by the output current waveform of the etching inverter power supply.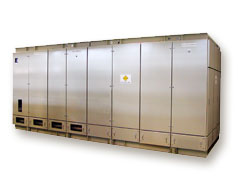 In offset printing, the ink is put on a treated aluminum thin plate for printing. The surface of the plate is subjected to an etching treatment (forming fine irregularities) to improve the plate lifetime and enable clear printing.
We can provide customized products to match customer needs in addition to optimal waveform selection.
Overview

Features
Large capacity output


Supports large current of 20,000A to 30,000A by bipolar output.

Output waveform control


The output waveform faithfully reproduces arbitrary waveform.
Adopts control method which follows the subtle setting of the rising and falling of msec units waveform.

High accuracy frequency control


Possibility to fine-tune the output frequency near the commercial frequency.

Synchronous operation between inverters possible


Possibility to control mutual output waveform timing when using two inverters simultaneously.
Please contact us for customization
There are ways to improve the efficiency of on-site work by customizing standard products to fit your own usage conditions.
We meet the needs of customers with the know-how we acquired over many years in Power Supply manufacturing.